To było to! Poczułem się prawie jakbym dokonał przełomowego odkrycia! W istocie dla mnie to było ważne odkrycie, które nie tylko zaspokoiło mój niedosyt poznawczy, ale również było początkiem fascynującej podróży po świecie Astrologii.
Znak Zodiaku dotyczy nie tylko Słońca, ponieważ w momencie urodzenia w jakimś Znaku Zodiaku znajdowały się również inne "obiekty" Układu Słonecznego, tj. Księżyc, Merkury, Wenus, Mars i pozostałe planety oraz ważne elementy (wśród nich m.in. Ascendent). Wszystko to razem tworzy tzw. horoskop urodzeniowy (lub kosmogram urodzeniowy). W astrologii dla uproszczenia Słońce i Księżyc umownie nazywa się planetami.
Przypisywanie osobie cech na podstawie opisu jej Znaku Zodiaku (czyli położenia Słońca) można porównać do oceniania książki po przeczytaniu jednego rozdziału ...
Każdy z elementów horoskopu urodzeniowego (a więc planety itd.) pełni jakąś rolę w strukturze osobowości (które mają w pewnym stopniu "przełożenie" na losy) - przykładowo Merkury odpowiada m.in. za sposób myślenia, komunikacji, wyciągania wniosków, Wenus wskazuje m.in. na to co lubimy, a także rodzaj partnerstwa jaki nam odpowiada, a Księżyc m.in. na sposób wyrażania emocji oraz wiele innych. Każda planeta (element horoskopu urodzeniowego) niesie jakieś informacje na temat danego obszaru (fragmentu) naszej osobowości. Inny sposób wyrażania emocji będzie miała osoba np. z Księżycem w Baranie (impulsywny, bezpośredni), a inny z Księżycem w Koziorożcu (dyscyplina emocjonalna, tłumienie emocji), bez względu na Znak położenia Słońca. Przykładowy horoskop urodzeniowy: Freddie Mercury.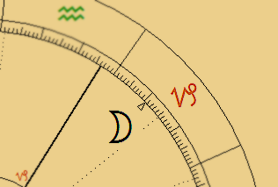 Fragment horoskopu urodzeniowego z Księżycem w Koziorożcu